LIFT-ASSIST LA36/LA96 YOUR EXTENDED ARM - LIFTING REDEFINED
Handling assistance devices must be constantly adapted to the changing processes of modern workflows. They should help the operator and optimize the processes.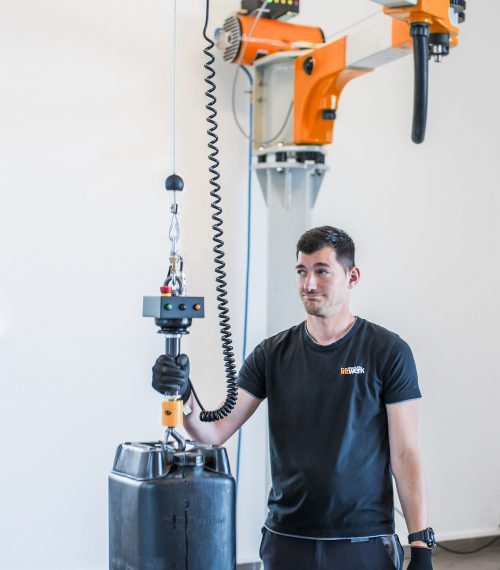 Lift and control manipulator joint arm with one hand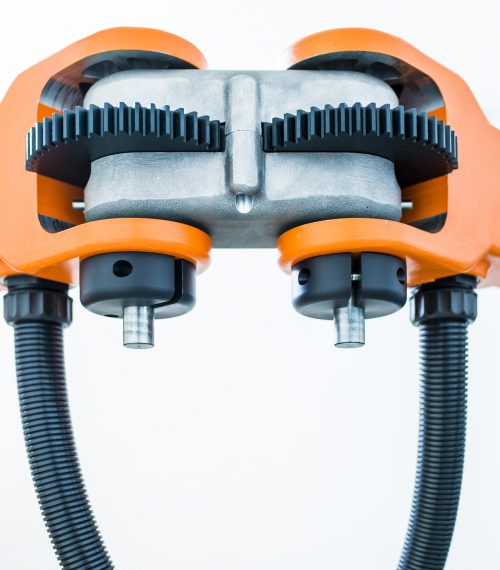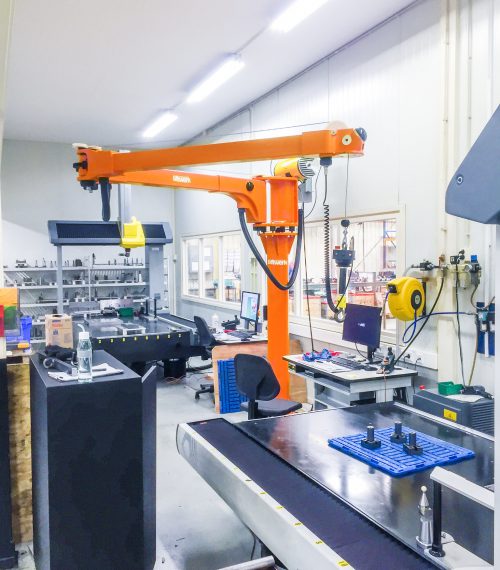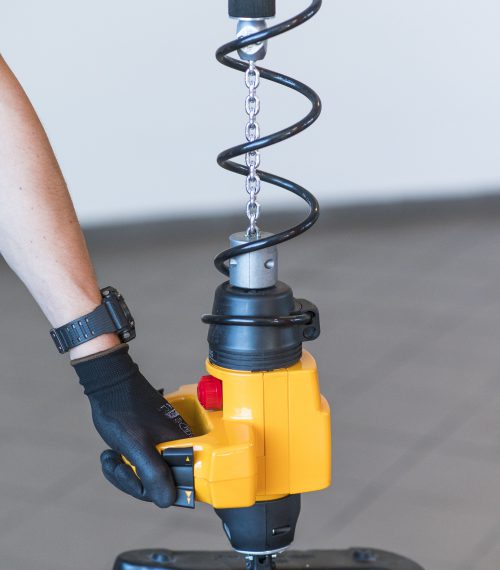 RINKE POWER-SYSTEMS IS NOW Liftwerk
Liftwerk continues the 30-year tradition of mechanical engineer Otto Rinke in the field of manufacturing assistance devices in workplace design. Based on the concept of manipulators, Mr. Rinke put his many years of experience and knowledge into an absolutely user-oriented design of articulated arms for the lifting and moving of loads up to max. 320 kg. The result is a multifunctional device, the LIFT-ASSIST, which is superior to all common standard swing arms.
Easier, faster, and less stressful work was our guideline. Employees, hoist and LIFT-ASSIST form a perfectly harmonic and methodical work step. The LIFT-ASSIST, which can be equipped with either a chain hoist or a rope hoist, can save up to 60% of the previously spent working time. This is the result of the very special design of the LIFT-ASSISTS in combination with special hoists and single-handed operating handles. An optimum in terms of ergonomics and easy handling.
It should be noted that the loss of downtime, payment of wages, risk of accidents, quality control and employee motivation must be considered as having a lot of cost saving potential. The best of it is that the LIFT-ASSIST can be made accessible to other areas of application due to its modular design. The LIFT-ASSIST is inexpensive and returns the investment quickly for the reasons mentioned above.
Fazit: In grauer Vorzeit war es der einfache Hebelarm, dann der starre Schwenkausleger mit Kettenzug – jetzt ist es ein moderner, effektiv und ergonomisch bedienbarer, zeitgerechter LIFT-ASSIST der zum echten Assistenzgerät für alle Bediener auf dem Hebesektor geworden ist.
Conclusion: In the distant past it was the simple lever arm, then the inflexible swing arm with chain hoist – now it is a modern, effective and ergonomically usable, up-to-date LIFT-ASSIST that has become a real assistance device for all operators in the lifting sector.
Lift Articulated arm redefined
With the especially flexible LIFT-ASSIST, all lifting operations can be performed completely stepless, easily and quickly with a single-handed operating handle.
The LIFT-ASSIST follows the will of the operator and any lifting operation in absolutely flowing and harmonious movements.
A new precision dynamic element allows the LIFT-ASSIST to be moved completely synchronous and with minimum effort. In addition, the load is positioned with absolute precision.
The LIFT-ASSIST was designed according to the findings of industrial science and industrial medicine as well as many years of practical experience.
PRODUCT, FUNCTION, EFFICIENCY
Product
Consisting of a lever arm mounted on a 3 m column, which folds in itself, for lifting and moving heavy loads up to 320 kg load weight. With arm lengths of 3 m or 4 m and the respective centre fold, extremely flexible movements of 270 ° swivel range are achieved, where the front arm – as a result of an articulated joint located between the arms – can be moved behind the column by half the arm length. In total, this covers an overall working area of approx. 50 sqm. The entire design allows a wide range of configurations and lifting equipment in order to provide the ideal work flow and assistance.
Function
Special features are the super easy, effortless handling, as well as the high flexibility, equipment options and possible applications. No restrictions of way or obstructions by energy drag lines and therefore no reset forces. Furthermore, no significant mass acceleration and deceleration forces will appear. Overall, this allows comfortable, effortless and physically relieving work.
EFFICIENCY
The operator guides the arm at the end of it with the load rope or load chain directly and very easily to the object which is to be lifted. It can immediately pick up and set down the load via the one-handed grip. Because of this flowing work process, shorter, fatigue-free and body-relieving work cycles are achieved.
The factors mentioned above save 60% of working time and improve the production output.
Lift-Assist LA36
lifting capacity with 3.2 m articulated arm 120 kg
270 degree swivel range, by with the front articulated arm it is possible to work far behind the column
all joints with high quality ball bearings
easy, fast and exact movements
scope of delivery
steel stand column
console and articulated arm elements
dowel set for reinforced concrete
levelling screws for horizontal adjustment of the arm
mechanical friction brakes
flex tube in the centre joint for passing of the medium
Lift-Assist LA96
lifting capacity with 4.2 m articulated arm 240 kg
270 degree swivel range, with the of front articulated arm it is possible to work far behind the column
all joints with high quality ball bearings
easy, fast and exact movement
scope of delivery
teel stand column
console and articulated arm elements
dowel set for reinforced concrete
levelling screws for horizontal adjustment of the arm
mechanical friction brakes
flex tube in the center joint for passing through the media