ORIGINAL ADDITIONS FOR YOUR LIFTWERK LIFTConfigurate your lift according to your own wishes.
Following you get a complete overview about our available additions for our current lifts. From radio control to the automatic door for the upper station, there is a lot to discover.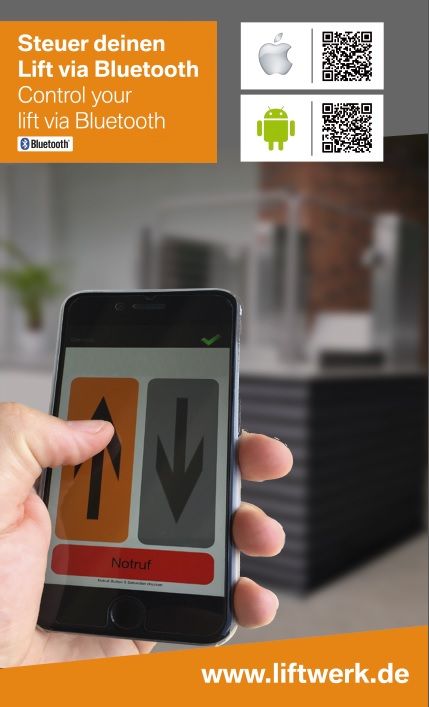 NEW! CONTROL YOUR LIFT WITH YOUR SMARTPHONE – VIA BLUETOOTH
Nowadays, there is an app for everything. Even for your Liftwerk lift. Just download the app from the google playstore or the apple app store and connect with your lift via Bluetooth. Simply search for "Hublift" and you will find it right away. Or click on one of the following links:
Download Lift-App for Apple iPhone, iPad, iPod
Pushing stiff buttons is a thing of the past:
Just lay you finger on your smartphone and get started. Your smartphone has to be able to use Bluetooth Low Energy 4.0 for you to use this feature. All modern phones are already equipped with it.
A security code protects against unauthorised access, the emergency button connects you with a phone number of your choice.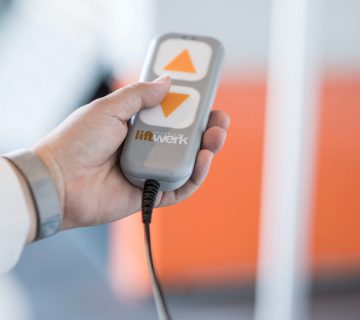 WIRED HANDHELD CONTROL – THE STANDARD
When you receive your Liftwerk lift, the standard way of control is always with the wired handheld control, which belongs to the delivery scope. It is completely sufficient for the usage in a private area. The curled cable is extremely extendible and flexible, you can put it on your lift wherever you want to.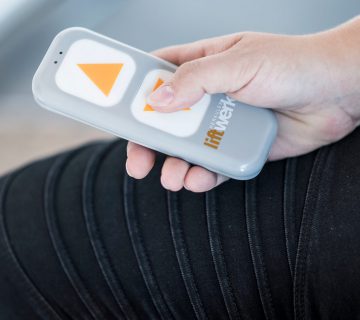 RADIO CONTROL
You need a comfortable and safe way to control your Liftwerk lift?
Then the radio control is just the right thing for you.
On a lift equipped with radio control, you can connect up to 32 hand control units.
If the batteries are low, this is not a problem at all. The radio control units run with customary AAA-Batteries, which you can easily change.
STARTING NOW: When you order the radio control for your lift, you automatically get the Bluetooth control for your smartphone as well – for free!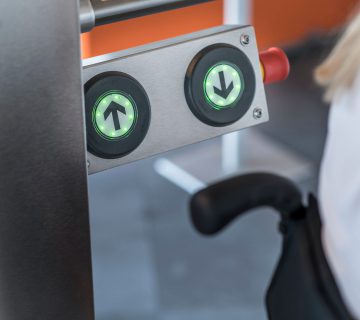 CONTROL PANEL WITH SENSOR BUTTONS ON THE PLATFORM
The control of your lift should be extra sturdy and safe?
This is no problem for our control panel which can be ordered by choice with or without a key.
The sensor buttons are extremely robust and vandalism proof and therefore fit perfectly for the installation in a public area.
Thanks to their size and the sensor surface, the user needs nearly no force when pressing the button – a big plus for comfort.
You can also use your own key-locking system, if you want to. In our control panel, a standard key cylinder with 40 mm fitting length can be installed without problems. There is even place for the popular Euro-Key.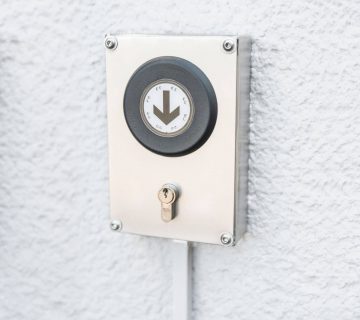 CALL BUTTONS ON THE STOPS
The ideal addition to the control panel.
The casing of our call buttons is made of 2mm stainless steel und therefore extremely robust.
Using the same buttons as on the control panel guarantees a high level of vandalism protection and longevity. The sensor buttons are also used here for an increase of comfort.
The call buttons are also available with or without a key.
You can also use your own key-locking system, if you want to. In our control panel, a standard key cylinder with 40 mm fitting length can be installed without problems. Here is enough place for the Euro-Key as well.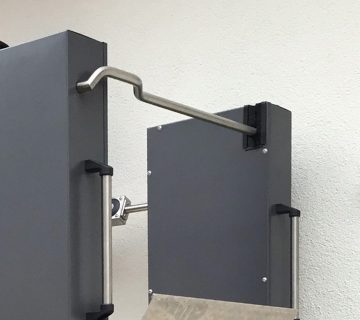 BARRIER FOR LOWER EXIT
Your Liftwerk Lift already offers a safe roll-off protection for wheelchair users with its standard automatic ramp.
If you want to, your Liftwerk lift can also be equipped with an automatic barrier towards the lower exit. It offers additional security and safety for rollator users or accompanying persons.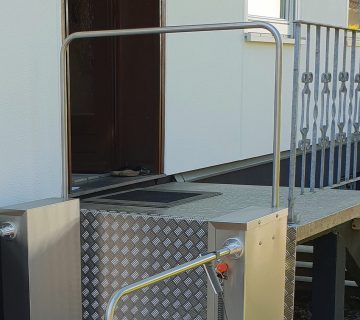 SAFETY GATE ON PLATFORM FOR UPPER STATION
You want a fall protection for the upper station but do not want to put a lot of work into it?
Then simply order our safety gate.
The bar will be mounted on the platform and drives with it. When the lift is standing in its lower stop, the bar blocks the entry on the upper edge. Is the lift driven to the upper station, one can walk under the bar without a problem.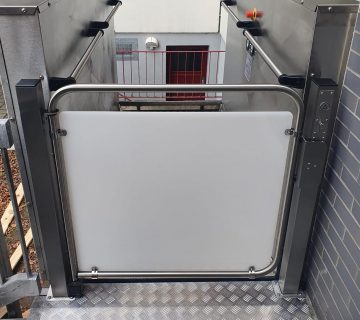 STAINLESS STEEL DOOR FOR THE UPPER STATION
Maximum security for the upper station with our stainless steel door.
Made of stainless steel and aluminium, our door guarantees a long life expectancy.
The door filling is made out of a polycarbonate plate in white. The filling can optionally be transparent as well.
The door is available as DIN left or DIN right.
By choice, the upper call button can be installed into the door post.
To bring the usage to perfection, we can additionally offer you an electrical automatic door opener. This one opens the door itself when the lift arrives at the upper station and is able to detect obstacles. Naturally, the door opener closes the door as well after using. An absolute plus for comfort.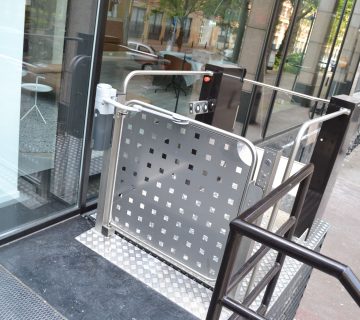 AUTOMATIC DOOR OPENER
If it should be even more convenient, our Liftwerk-door can also be equipped with an automatic door opener. It electrically opens and closes the door, detects obstacles and blinks while opening.
On the right picture you can see the automatic door opener installed on a MB1700 lift – an absolute plus for comfort, especially for wheelchair users or users with restricted mobility.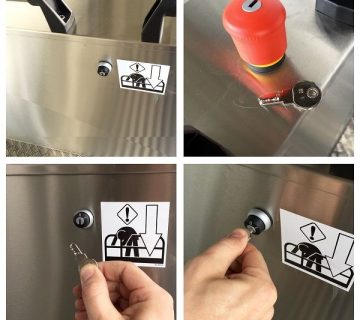 BATTERY-BACKED EMERGENCY LOWERING
If your house has often to deal with power failures, we offer you the possibility to build a battery-backed emergency lowering into your lift.
If the power fails again, you simply take the key from your emergency stop and put it into the small key switch on the opposite side, turn it to the right and you start driving downwards with the battery. So you can free yourself from the lift without needing further help from a third person.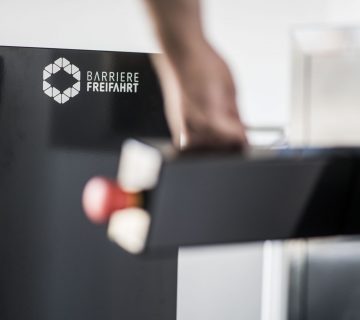 Barrierefreifahrt
Die neue Verschlüsselungsvariante – ganz ohne Schlüssel! Barrierefreifahrt verriegelt deinen Lift elektronisch. Um mit Barriere Freifahrt ausgerüstete Lifte benutzen zu können, registrierst du dich schnell und einfach online. Nach Anmeldung erhältst du vollen Zugriff und kannst verschiedene Lifte kennen- und benutzen lernen. Die Systeme aktivierst du bequem über die App oder über einen bestellbaren NFC-Chip.
Mehr Informationen zu Barrierefreifahrt findest du hier.